Foil Printing Machine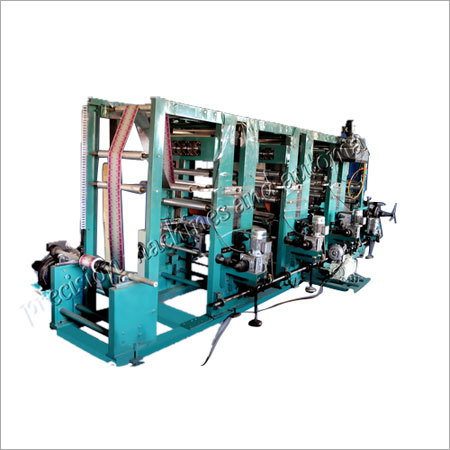 Foil Printing Machine
Product Code : PMA-09
Brand Name : PRECISION MACHINES & AUTOMATION
Pharma Foil Printing Machine
We are one of the noted exporters and manufacturers of Pharma Foil Printing Machines. As the name suggests, these machines are used in pharmaceutical sector for printing foils. This is roll to roll printing machine widely used to print blisters, poly and strips in Pharma industries. There are quite focused features loaded in these Pharma Foil Printing Machines due to which it ensures less wastage of resources in the process. In order to control the motor, we have included a high Torque DC motor with variable drive in the printing machine.

Additional Details :

High Torque DC motor with variable drive for motor control.
Infrared Tubes and blower fans at individual stations for instant drying
Small Control panel at every station for IR lamps and blower fans
Timing belts and pulley drive from gear boxes to stations, ensures zero backlash and play
Robust structure, Heavy channel base for vibration free working
Hydraulic web guider would be used for the alignment at the rewinding.
Provision for web guiding at unwinding on demand
High resolution of registration settings
Easy adjustment through worm for registration.
Imported zero backlash Italian Gear Boxes Make: bonfiglioli
Small circumferential length(path of foil) for minimum wastage.
Separate geared motors at individual stations for blade movement
Aluminum rollers with free bearing drive is used for conveying foil.
Ideal for printing Blister , Pharmacy Foil .
One rubber set rollers been given with machine for all stations
Digital temperature indication at individual station and digital reading of the speed of the foil (Particularly beneficial for Q.C. , Q.A. purposes and for auditing parameters)
Rack and pinion arrangement for color tray up and down

General Technical Specifications :-

1. Working width 18 inches maximum

2. Power consumption of motor 5 hp.

3. IR tube load individual load 1kw/per tube, 2nos tube each station, Single Phase

4. Foil type : Blister, Poly, Gloss Paper etc

5. Inks used alcohol based, ethyl alcohol

6. Web guider motor type : Induction, 3 Phase, 1 hp

7. Total weight of machine 4500kg approx

8. General floor space required 7ft x 20 ft.(for four colors), length varies according to the colors.
Contact Details
Mr. Vaibhav Sharma (Proprietor)
Additional Address : 401, Rose D, Anchor Park, Evershine City, Vasai, Mumbai .
| | |
| --- | --- |
| | PRECISION MACHINES & AUTOMATION All Rights Reserved. |